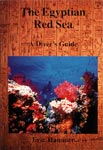 The Egyptian Red Sea Divers Guide


By Eric Hanauer
238 pages, 6x9 inches, paperback, 126 color photos, 4 maps, Glossary, Bibliography
ISBN 0-922769-04-4
Price: $19.95
This guide to the Red Sea is the result of the author's five seasons and over 300 dives in the area. Besides covering the best dive sites in this astounding region, the author has included chapters on the area's ecology and unique marine life. Includes important tips for traveling in Egypt and a fascinating account of recommended land excursions to explore the country's 5,000 years of history.
Table of Contents
The Egyptian Red Sea Today
Diving History
A Survival Guide on Land and Sea
The Red Sea: A Scientific View
Creatures of the Red Sea
Sinai
Hurghada
The South
Night Diving
Footloose in Egypt
Glossary of Arabic for the Diver
A Red Sea Bibliography
About the Author
Eric Hanauer, associate professor of Physical Education at California State University, Fullerton, has been a diving instructor since 1961. An accomplished freelance writer and photographer, nearly 200 of his articles have appeared in every major American diving periodical, as well as those in Canada, New Zealand and other foreign countries.