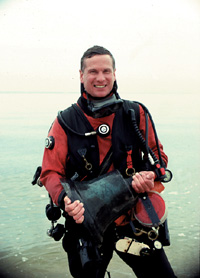 Aqua Quest Publications, Inc. was founded in 1989 by Tony Bliss, Jr. as a publishing and distribution company specializing in books on the underwater world. Our first publication was actually a 1990 calendar, Splendors of the Yucatan, featuring photographs by Ed Fiorell of the stunning underwater formations in the caves and cenotes of the region.

Tony made his first dive in 1958 and continued diving in the Long Island, New York area until joining the Army in 1965. He served two tours in Vietnam as a paratrooper in the 101st Airborne Division. His first tour was in Airborne Infantry and his second tour was as a Team Leader in the Division's Long Range Patrol Company. He left the Army in 1968 as a Staff Sergeant E-6. His decorations include the Silver Star, Bronze Star with Valor device, Combat Infantry Badge, Parachute Badge and Recondo Brand.

Tony received his BA degree in English at C.W. Post College and his MA degree in Journalism from New York University. He worked for The New York Times for 8 years, most of which was on the Foreign News Desk. He later taught college-level journalism and worked as a freelance magazine writer specializing in military affairs. During this period he returned to diving and became a PADI and SSI instructor.

Aqua Quest is located in Locust Valley, NY on Long Island's North Shore.