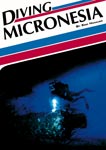 Diving Micronesia


By Eric Hanauer
128 pages, 7x10 inches, paperback, Color photos, Maps, Index, Appendices
Pub Date: October 2001
ISBN 1-881652-05-X
Price: $18.95
Micronesia, with its tremendous variety and World War II history, has become a major destination for divers. Covered are the best dive sites in Guam, the Marianas, Yap, Palau, Truk, Pohnpei, Kosrae, and the Marshalls including Bikini. While the diving and marine life are the major focus of this volume, the author includes a detailed account of each region's history, and the customs and culture of the societies found there. Included are his recommendations on what to see, where to stay and where to eat.
About the Author
Eric Hanauer is a widely published writer and photographer specializing in the underwater world. Author of three books and over 500 articles, his work has appeared in posters, magazines, books, and CDs, on subjects ranging from travel to diving history, instruction to equipment. Forty years of active diving have brought a unique perspective to Eric's work. He is an Associate Professor Emeritus in the Kinesiology Division at California State University, Fullerton. An aquatics specialist, he trained over 2500 scuba students, and introduced the grab start to competitive swimming while coaching in the 1960's. Born in Stuttgart, Germany and raised in Chicago, Eric earned a BS in Physical Education at George Williams College, and an MS at UCLA. He resides in San Diego, California.
Reviews
"Underwater scenery is reachable by flipper with Diving Micronesia."
-Publishers Weekly
"From Aqua Quest Publications, well-known in the diving community for their thorough and detailed guides to regions all over the world, comes Diving Micronesia by Eric Hanauer, a comprehensive guide to all the islands in Micronesia. The first chapter, An Overview, is filled with useful information such as currency, dress etiquette, immigration and customs, and a section that helps first-time travelers to the region decide where to go by asking, What are you looking for? Whether you're seeking nightlife, liveaboards or to get away from it all, this section directs you to a Micronesia destination that will fit your traveling preferences.
The diving is laid out with a catalog of water temperature and visibility (one of the few books to even mention this), underwater habitats and marine life. The region's diving is then narrowed down into specific destinations, arranged from west to east, starting with Guam and continuing on through the Marshall Islands. Each destination is described At a Glance, then broken down into dive sites, which include information on depth and skill level and a brief description of the diving. Each dive destination is also accompanied by a list of things to do on land, illustrative photos and a map locating each dive site listed.
Reading this book as someone who has visited the region, I can say that the list of marine creatures that one might see is accurate and reliable, and the tips given about navigating the sites are helpful to know for a first-time visitor. I particularly enjoyed the section about the author's experience of chewing betel nut, because it was an interesting account of one of the unique opportunities that Micronesia has to offer.
Overall, Diving Micronesia is a comprehensive and useful guide for new visitors to the islands of Micronesia and the Marshall Islands. The appendix even lists 52 dive operators in the area and contact information for each. Diving Micronesia is one book you'll need for planning a trip to these exotic Pacific Islands."
-Kyle Foster, Skin Diver
"If you long to see or photograph brilliant soft corals, clownfishes hiding in anemones, spectacular but deadly lionfishes, or outrageously decorated triggerfishes, all in a region culturally diverse and rich in World War II history, then Micronesia is the place to be. The first comprehensive diver's guide to all the main islands of Micronesia, Diving Micronesia by Eric Hanauer, has been released by Aqua Quest Publications."
-Dive Training, January 2002