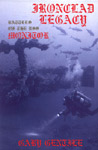 Ironclad Legacy: Battles of the USS Monitor


By Gary Gentile
280 pages, 6x9, Hardcover, Color and B&W photos, Appendices
Pub Date: 1993
Index ISBN: 0-9621453-8-6
Price: $25.00
The author, who prevailed in a six-year legal fight against NOAA for the right to dive the Monitor, traces the history of this historic ironclad from the time of her building to the present. Included are chapters on the Monitor's battle against the Merrimack, and the Monitor's sinking as well as the author's legal fight and his expedition to dive the Monitor.
Table of Contents
Battle with Birthing
Battle of Hampton Roads
Battle against Nature
Battle of the Bureaucrats
Battle with the Public
About the Author

Gary Gentile started his diving career in 1970. Since then he has made more than 1,000 decompression dives, over 100 of them on the Andrea Doria. He has specialized in wreck diving and shipwreck research, concentration on wrecks along the East Coast, from Newfoundland to Key West, and in the Great Lakes. He has written dozens of articles for magazines and has published thousands of photographs in books, periodicals, newspapers, brochures, museum displays, film and television. He lectures extensively on wilderness and underwater topics, and conducts seminars on advanced wreck diving techniques and high-tech diving equipment. He is the author of several books on nonfiction diving, and nautical and shipwreck history.