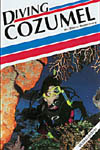 Diving Cozumel, 2nd Edition


By Steve Rosenberg,
120 pages, 7x10 inches, Paperback, Color Photos, Maps, Index, Appendices
ISBN 1-881652-31-9
Price: $18.95
The Mexican island of Cozumel is one of the Caribbean's best and most reasonably priced dive destinations. Highlighted are over 30 of the top shore and boat dives on the island. For each site a detailed description of the terrain and marine life is given. An added feature is line drawings which illustrate the reef profiles including slopes, depths and landmarks. Restaurants, hotels and sightseeing on both Cozumel and the nearby Yucatan Peninsula are all covered in this volume as is some of the island's unusual marine life.
View Detailed Table of Contents >>>
Table of Contents
The Past
The Present
Accommodations
Dining
Sightseeing
Diving
Dive Sites
Marine Life
About the Author
Steve Rosenberg's articles and photographs appear regularly in diving, photography, nature, and science magazines both in the United States and abroad. Steve specializes in underwater photography and video, dive travel, and marine biology. When he is not teaching photography seminars or leading dive expeditions to the Indo-Pacific, Hawaii, the Caribbean or other tropical destinations, he is engaged in the practice of law in Alameda, California.
Reviews
?Now in an updated and expanded second edition, Diving Cozumel by diving expert and underwater photographer Steve Rosenberg is a gorgeous, descriptive and illustrated tour....The stunning color photographs also allow armchair travelers a virtual tour of some of the most amazing seascapes to be found.??Midwest Book Review