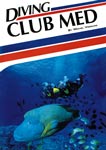 Diving Club Med


By Michel Verdure,
128 pages, 7x10 inches, paperback, Color photos, Maps, Index, Appendices
ISBN 1-881652-00-9
Price: $18.95
This unique guide features ten Club Med destinations that offer scuba diving including Sonora Bay (Mexico), St. Lucia (West Indies), Turkoise (Turks & Caicos), Columbus Isle (Bahamas), Buccaneer's Creek (Martinique), Eleuthera (Bahamas), Cancun (Mexico), Moorea (French Polynesia), Playa Blanca (Mexico), and the cruise ship Club Med 1. For each of these locations, the author details the special atmosphere of the Club Med village, and describes the topography and marine life of the most popular dive and snorkeling sites.
View Detailed Table of Contents >>>
About the Author
Michel Verdure is a professional photographer whose assignments have taken him worldwide and have included four expeditions with the Cousteau Society. Michel is a master scuba instructor with over 20 years experience. He has worked as a diving and photography instructor, and as a director (chef de village) of several Club Med villages. His first book, Merveilles du Monde Sous-Marin, was published in Paris in 1988. His photographs have won first place in several major photography contests.