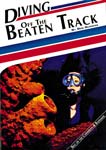 DIVING OFF THE BEATEN TRACK: Best of the Caribbean


By Bob Burgess,
128 pages, 7x10 inches, paperback, Color photos, Maps, Index, Appendices
ISBN 1-881652-03-3
Price: $18.95
With 19 books and decades of diving to his credit, the author takes you off the beaten track to some of the very best dive resorts and compact liveaboards in the Caribbean and Bahamas. Often remote and rustic, where amenities seldom exist, these operations are for the discriminating diver. In most cases their clientele is small in number, their operations low key, and their business based on word of mouth and not glitzy advertisements. Includes areas of the Bahamas, Belize, Bay Islands and Cayman Islands.
View Detailed Table of Contents >>>
Table of Contents
The Bahamas
Sampling the Secrets of Cay Sal
Bermuda Triangle: 8 Divers Down, 9 Return
Boat Diving: Dish Wrecks to Dolphins
Walls, Wrecks and Super Reefs
The Caymans
Grand Cayman: Beyond the Crowd
Pirates Point: Unforgettable Feast
The Bay Islands
Earthquake Cracks to Unpicked Bones
Think You Are In Hog Heaven? You Are
Belize
The Pied Pier of St. George's Cay
Dive Off Dutchman's Elbow and Find Glory
Blue Hole, Booby Birds and Beyond
Stalking Stingrays Where Mantas Meet
Fanta-Sea Rendezvous to the Black Hole
About the Author
Bob Burgess has been diving for over fifty years, and is a veteran journalist with 19 books and hundreds of magazine articles to his credit, most about sharks, shipwrecks, treasure hunting, marine biology and underwater archaeology. After serving with U.S. ski troops in Italy at the end of World War II, Bob finished his education in journalism. As a correspondent, his assignments included covering the French Foreign Legion, backpacking through the mountains of northern Africa and interviewing Ernest Hemingway at his last Pamplona Fiesta. Bob is an avid diver, underwater photographer, sportfisherman and sailor. He resides in Chattahoochee, Florida.

Link to the author's website:
www.geocities.com/bobsbooks_2000

Reviews
"...an engaging travelogue showcasing superb diving locations in the Bahamas, the Caymans, Belize, and the Bay Islands. Full-color photographs wonderfully enhance Burgess' engaging narration making Diving Off The Beaten Track superbly fascinating reading for armchair travelers as well as an invalable Caribbean travel planning guide for avid divers."?Jim Cox, Midwest Book Reviews